08.13.19

Buck$ for Biscuits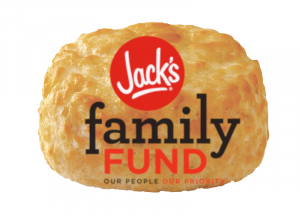 UPDATE: Watch the biscuit eating challenge on our Facebook Page.
The Jack's Family Fund is launching our inaugural Buck$ for Biscuits campaign. Now through June 13, volunteer "Biscuit Lovers" are raising money and awareness for Jack's Family Fund.
At the conclusion of the campaign, three Biscuit Lovers – the one who raises the most money, the one who receives the greatest number of gifts, and the one who raises the least money – will compete in the Three Minute Biscuit Eating Challenge on July 8th. (Time and location TBD.) The Challenge will stream live through the Jack's Family Fund's Facebook page.