10.12.18

Jack's Family Fund Partners with Kids to Love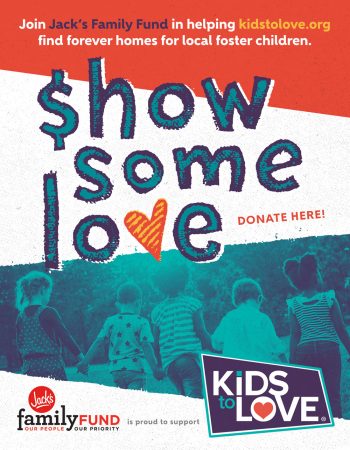 After nearly 60 years of charitable commitment to the communities it serves, Jack's is launching its own non-profit foundation ­– the Jack's Family Fund. Kids to Love, a Huntsville-based non-profit providing homes to foster children, will partner with the new organization for its first official fundraiser across all 153 restaurants.
The fund was established to provide a financial safety net during emergencies and crisis for employees, guests and communities across the restaurant chain's footprint of Alabama, Mississippi, Georgia and Tennessee. It was launched with starter funds provided by Jack's and its employees.
"At Jack's our team has a tradition of giving that truly reflects the spirit of Southern hospitality that makes our customers feel like family," Mike Greco, president of the Jack's Family Fund board of directors said. "Not only were initial funds raised out of our own pockets, but our team was passionate about Kids to Love being our first non-profit partner because we're helping children in crisis in hometowns across the state."
Kids to Love's reach mirrors the Jack's restaurant footprint helping foster children to find their forever homes and providing needs like food, clothing and shelter along their journey. Donations to the Kids to Love fundraiser will be accepted at all restaurants from August 8- September 25. All funds donated will go directly toward assisting foster children as they prepare for forever families and the Kids to Love girls' home, Davidson Farms.
"The foster children we serve live in the same communities that Jack's serves," says Lee Marshall, Founder and CEO of Kids to Love. "I'm excited to work with Jack's on behalf of all of our kids, including our girls who have found home here at Davidson Farms."
Jack's Family Fund/ Kids to Love Fundraiser Details:
What: Fundraising to support non-profit Kids to Love
When: August 8- September 25, 2018
Where: All Jack's Locations
How: No purchase necessary, simply donate at restaurant registers or online here.